Electric Fly Killer Machine
Brand:
WANTRN
Product Code:
ART40
Availability:
In Stock
Estimated Delivery:
Thursday 21 Nov 2019
Every application is unique, so each situation requires an individual assessment for fly killer siting, however, there are basic principals that should be followed:
Recommend enough Electric Fly Killers to cover the area to be protected in line with the recommended coverage guidelines for each model

Install Electric Fly Killers away from sources of light competition, such as windows, doors and high powered luminaires

Consider sources of heat and airflow, such as heaters / AC units

Don't install Electric Fly Killers directly above sensitive areas, such as food preparation areas

Glue board fly killer units should be used in sensitive applications such as food preparation or production areas

Consider access for installation and future servicing

Wherever possible, Electric Fly Killers should be positioned at 90° to sources of natural light, such as windows, doors and skylights

Electric Fly Killers should be positioned in between potential entry points, so as to intercept flying insects before they reach sensitive areas

Electric Fly Killers should not be sited either too high or too low in the area to be protected, with an optimum height of around 2m, for most flying insect species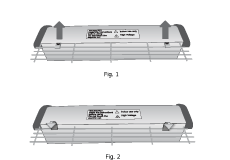 Before Cleaning and Maintenance
• Always switch off the power and disconnect the appliance from the power supply before cleaning.
• Clean the collection tray regularly with warm soapy water.
• DO NOT immerse the appliance in water. Wipe the safety guard and external casing with a damp cloth.
• Change the bulbs every 6 to 9 months.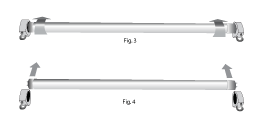 Changing the Bulb
WARNING: Always turn Off the appliance and disconnect from the power supply before changing the bulb.
1. Remove the catch tray.
2. Lay the appliance face down.
3. Unscrew the two screws holding the safety guard
at the rear of the Fly Killer [Fig. 1].
4. Lift up the guard rail [Fig. 2].
5. Holding the ends of the bulb, twist it 'forwards' in
its socket until it clicks [Fig. 3].
6. Slide the bulb up out of its sockets [Fig. 4].
7. Replace with a new bulb.
8. Twist the new bulb 'backwards' to lock it back in place.
9. Replace the guard rail and the two screws.
Hotel, Industrial & Factory use
Regular Model with Stand
Electric 2 Feet Insect Killer Machine Highly Recommendable for Industrial use and hotels, Cafe, Factory etc

Say goodbye to flies!
As the weather gets warmer, flies can begin to invade our homes and businesses in the search of food. Poisons and pesticides can be messy and harmful and they aren't suited to certain environments - especially in commercial kitchens, cafes, shops or even homes with children and pets. Simply plug your Regular insect killer in and watch it defeat the annoying flying insects.
An electric fly killer is essential to have all year round, but it's especially important during the summer. During the warmer months, flies can start to become a real nuisance. This remote control fly killer provides amazing coverage and a high-powered electric grid to zap flies and other pests, keeping your home or workplace clean and hygienic!
Low maintenance and extremely durable
It's ideal for places where pesticides can't be sprayed such as kitchens, restaurants and hospitals. Made from sturdy, durable aluminium, this low maintenance fly zapper is scratch proof, corrosion proof and has an ABS fire-proof plastic sideboard.

How Does it Work?
This fly zapper attracts flies and insects by mimicking the light they see from flowers or plants. Using a UV-A bulb, the flies are attracted to the light and fly towards it – resulting in them being electrocuted by the grid inside the device. This ensures the flies are killed immediately, allowing your space to be fly-free in no time!
Unique Design

Unlike many other fly killers of this design, this has an exposed top, ensuring more UV light is accessible for the flies to see. This provides maximum attraction, allowing more flies to be removed at a much quicker rate – perfect for takeaways or commercial kitchens where flies can be a repeated problem!
Safety Features

This Regular Model insect killer is designed with a fully protected outer mesh, ensuring no fingers can slip into the device. 
Perfect for Commercial Kitchens, Restaurants 
Due to flies entering our homes or workspaces looking for food – businesses that serve food are the most susceptible to having them! This regular model is perfect for food-related businesses, as they can be wall or ceiling mounted. This allows the fly zappers to remain out of the way of members of the public, whilst still ensuring no flies go near your food or worksurfaces!

FREE Hanging Chain and Cleaning Brush
To enable the fly zapper to be wall or ceiling mounted easily, this regular fly killer comes with a FREE hanging chain. Simply attach the device to any wall or ceiling, and allow the fly zapper to kill the flies quickly! Once the fly zapper has successfully killed the flies, you'll want to remove them regularly. Using the built-in removable tray, simply sweep the dead flies into the bin using the FREE cleaning brush to ensure the device is left as hygienic as possible!
When you order from WANTRN, you know you're in good hands - the brand that people trust when it comes to pest control. 
An electrical discharge insect control system is a device that attracts and kills flying insects that are attracted by light. A light source attracts insects to an electrical grid, where they are electrocuted by touching two wires with a high voltage between them. Electric Fly killers utilize ultraviolet tubes to attract flying insects into the product, before zapping them dead on a high voltage killing grid. UV tubes attract flying insects by emitting a wavelength of light attractive to flies. Flying insects are attracted to the tube which emits UV at a level comparable to that of the sun, which the flying insect has a natural attraction to as a source of heat.
Electric fly killers use UV light to attract flying insects to the unit, then use a killing grid to kill the insects, before retaining them in a catch tray to allow hygienic disposal