Fly Control Machine
Brand:
WANTRN
Product Code:
AMEP40
Availability:
In Stock
Estimated Delivery:
Thursday 21 Nov 2019
Rs5,590.00
2 or more Rs5,490.00
3 or more Rs5,390.00

Every application is unique, so each situation requires an individual assessment for fly killer siting, however, there are basic principals that should be followed:
Recommend enough Electric Fly Killers to cover the area to be protected in line with the recommended coverage guidelines for each model

Install Electric Fly Killers away from sources of light competition, such as windows, doors and high powered luminaires

Consider sources of heat and airflow, such as heaters / AC units

Don't install Electric Fly Killers directly above sensitive areas, such as food preparation areas

Glue board fly killer units should be used in sensitive applications such as food preparation or production areas

Consider access for installation and future servicing

Wherever possible, Electric Fly Killers should be positioned at 90° to sources of natural light, such as windows, doors and skylights

Electric Fly Killers should be positioned in between potential entry points, so as to intercept flying insects before they reach sensitive areas

Electric Fly Killers should not be sited either too high or too low in the area to be protected, with an optimum height of around 2m, for most flying insect species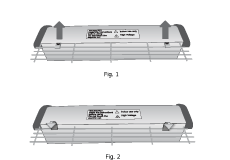 Before Cleaning and Maintenance
• Always switch off the power and disconnect the appliance from the power supply before cleaning.
• Clean the collection tray regularly with warm soapy water.
• DO NOT immerse the appliance in water. Wipe the safety guard and external casing with a damp cloth.
• Change the bulbs every 6 to 9 months.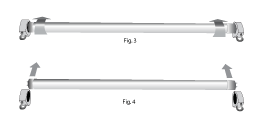 Changing the Bulb
WARNING: Always turn Off the appliance and disconnect from the power supply before changing the bulb.
1. Remove the catch tray.
2. Lay the appliance face down.
3. Unscrew the two screws holding the safety guard
at the rear of the Fly Killer [Fig. 1].
4. Lift up the guard rail [Fig. 2].
5. Holding the ends of the bulb, twist it 'forwards' in
its socket until it clicks [Fig. 3].
6. Slide the bulb up out of its sockets [Fig. 4].
7. Replace with a new bulb.
8. Twist the new bulb 'backwards' to lock it back in place.
9. Replace the guard rail and the two screws.
insect Killer light with glue pad model
Glue Pad Insect Killer Metal Body - 40W
Flying insect Killer Machine with Long Size Compact for Industry and Food Processing area
Premium Sleek design with wall mount model
New from Insect a Clear, the WANTRN professional glue board fly killer machine suitable for domestic kitchens, restaurants, food shops, bars, cafes, deli, etc. where flying insects cause a problem.


Rather than risk the contamination of food surfaces and food itself by a dismembered zapped fly, this unit captures and holds the fly on the board until its death. It will remain stuck to the board even passed its death.



This Glueboard fly killer has been designed for commercial premises where fly control measures need to be implemented to protect food and food surfaces from the detrimental effects of flies


The flies are lured towards the unit by the high UV tubes and are then captured by the large area Glueboard positioned perfectly behind the tubes. As a result of this design, very few flies that are lured to the unit are able to escape



Versatile installation as the fly killer can be wall mounted or ceiling suspended. We always recommend installing the unit as high as possible within the room in a shaded area. This allows the UV light to compete comparably with the natural light of a room
Manufactured from metal and powder coated in a clean, white paint to ensure the unit sits discreetly within a kitchen or food preparation area.

The metal ensures the unit can be situated in a high traffic, busy, bustling environment such as a commercial kitchen without losing its integrity or ability to capture flies.




Easy to install and the Glueboards are easily replaceable every month to ensure the boards retain optimum fly catching ability. 



The ultra violet glow gives an added dimension to the lighting in the kitchen. Visitors to your home will appreciate the subtle glow without realizing the main purpose of this attractive feature.

As a result, this fly killer is particularly suited to commercially sensitive areas where customers are present or for where food is being prepared (no one wants fly debris landing on kitchen appliances or within food)


The Glueboard itself is large and the horizontal section helps collect any fly debris from dying flies




The boards and bulbs are readily available and easy to replace to ensure the unit remains at optimum efficiency. 



Safe for home used to normal.
The powerful without electric grid and soundless technology 

Say goodbye to flies!
As the weather gets warmer, flies can begin to invade our homes and businesses in the search of food. Poisons and pesticides can be messy and harmful and they aren't suited to certain environments - especially in commercial kitchens, cafes, shops or even homes with children and pets. Simply plug your XZAP30 in and watch it defeat the annoying flying insects.
Specification

| | |
| --- | --- |
| Lamp                  | 18W x 2 ( Philips tubes ) |
| Size  | 2 Feet |
| Finish | Metal |
| Type | Glue Board |
| Area of coverage | Approx up to 300 Sqft |
| Weight | 6KG |